What to expect
In the first session, a detailed assessment is performed by a registered physiotherapist with proper needling qualifications. The regions that are treated are properly cleaned, sterile needles are then inserted into specific regions of the body. Once the therapeutic response occurs, the needle is removed and discarded. Typical sensations that occur are a deep aching sensation, a momentary "twitch" in the muscle or no sensation at all. Sensations from needling are temporary, lasting anywhere from seconds to a few days.
Treatment Techniques
Acupuncture
Acupuncture is a form of traditional Chinese medicine involving insertion of needles into specific points on the body to achieve a therapeutic effect.
Acupuncture points are located on a series of meridians or channels on the body that were mapped by the Chinese centuries ago. When a needle is correctly placed into these acupuncture points, it can elicit a dull, heavy, or achy feeling. In Chinese medicine, this is described as the "De Qi" response, which can be roughly translated to "manipulation of energy." These needles are left in place for 15-30 minutes which helps to increase the effect of the point. Some practitioners may choose to manipulate the needle to strengthen the effect.
IMS
Intramuscular Stimulation (IMS) is a total system for the diagnosis and treatment of myofascial pain syndromes (chronic pain conditions that occur in the musculoskeletal system when there is no obvious sign of injury or inflammation).
IMS is grounded in western medical science. The needle sites tend to be at the center of taut muscle bands, or they can be near the spine where the nerve root may have become irritated and supersensitive. Shortened, supersensitive muscle will "grasp" the needle in what can be described as a cramping sensation. The result is relaxation of the tight muscle, initiating a natural healing process through the microtrauma of the needle, resetting the nervous system to normal function.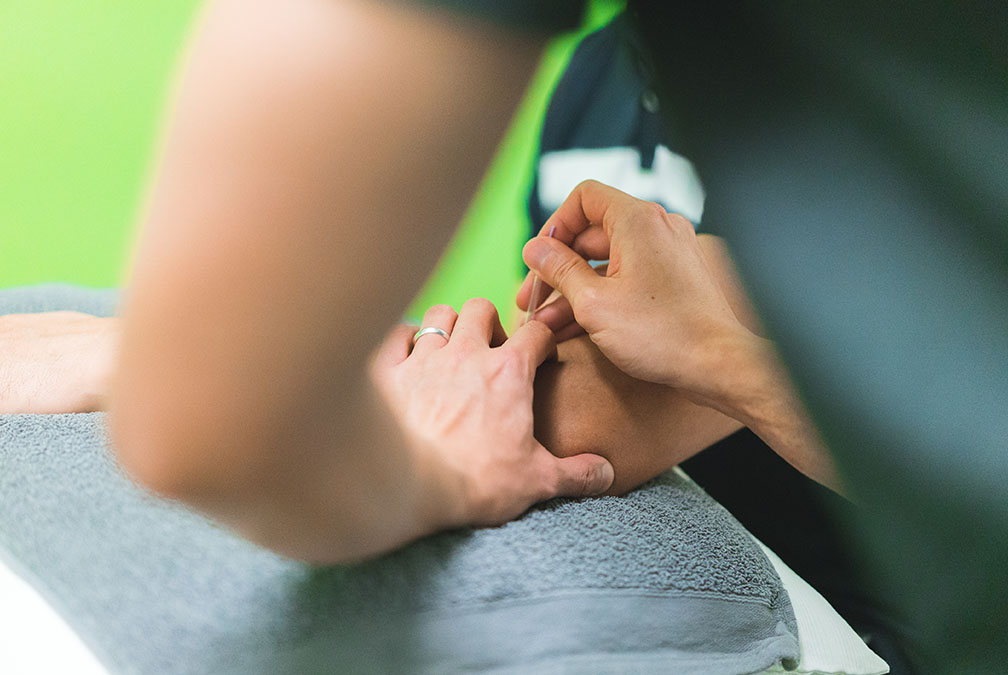 Pricing
Physiotherapy treatments include IMS, dry needling, acupuncture, active rehab and pilates and are billed as physiotherapy for extended health plans.
*Initial Assessment
45 mins
$85
Full Time Student
30 mins
$65
*for first time clients, or clients who have not been seen in more than 3 months
Please note: IMS, dry needling and acupuncture are performed by a physiotherapist and billed as physiotherapy for extended health plans.
You will be charged the full price of your appointment if it's cancelled within 24 hrs of your scheduled appointment and date.
We are able to direct bill some extended health plans. Please check out the FAQ's under contact for a list of participating insurance companies.